Easter Dates
This year, Easter Sunday is on April 12. So that makes this year's Easter date a bit "later than usual". The date of Easter is variable every year, according to a complex formula. Because of that complexity, you might have questions like:
How often does it fall on a particular date?
When is the latest or earliest Easter could be?
Does it fall on a certain date more often than others?
I was wondering about these questions over the past few weeks, and decided to write a web app to investigate. The result is Easter Dates.
Frequency per Date
How often does Easter fall on each date within the year? Turns out it's fairly evenly distributed between March 29 and April 20, with the extremes (early: near March 22; late: near April 25) falling off in frequency.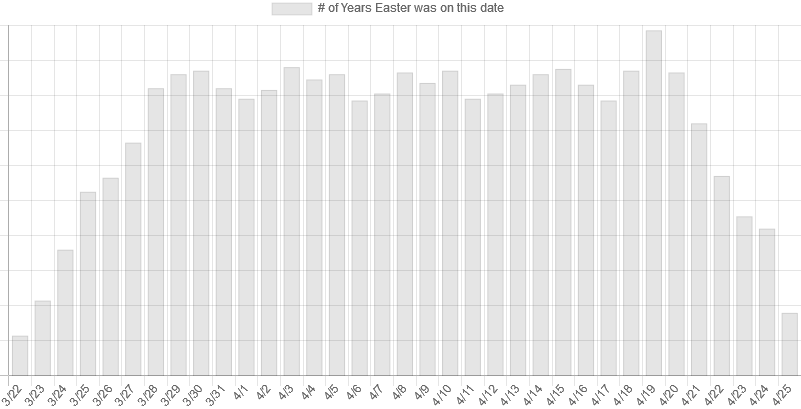 Why is this? Easter is always on a Sunday and is based on the Paschal full moon. The full moon in question could be on any day of the week. So for Easter to be 3/22, the moon can only be on one day. For Easter to be 3/23 the moon can be one of two days, and so on until you get up to seven and then that's the generally consistent (flat) section of dates. Then a similar explanation for the section at the end.
For a more complete explanation of the date of Easter and the distribution of dates, check out Computus on Wikipedia as well as "When is Easter?".
Date Lookup
If you're interested in a particular date that falls in the Easter or Lenten season (For example: your birthday), how often will that date fall within Lent, Easter, or the Easter season? I created a separate tool that allows you to type in your date and it will tell you. For example, if your birthday is March 31, 1985: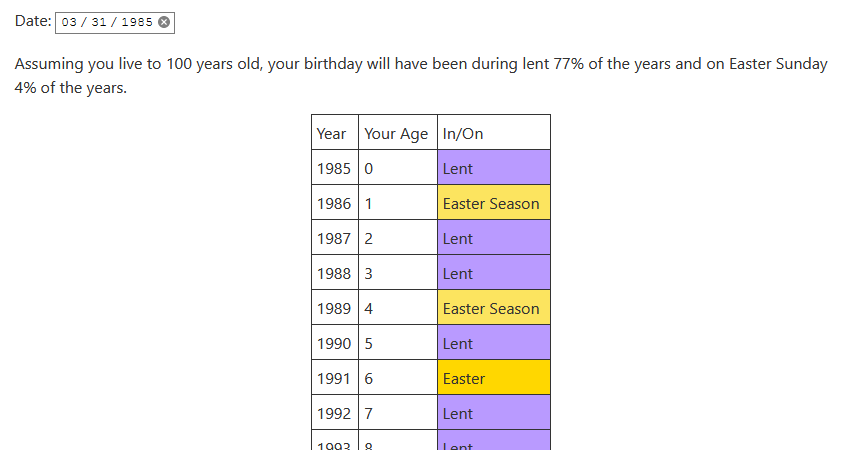 Please enjoy these tools, let me know what you think, and Happy Easter!
Written by Gavin Rehkemper on
See Also