Happy New Year 2016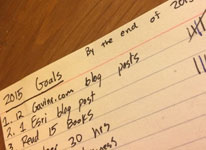 I don't like new year's resolutions. They are too often forgotten a few weeks down the road. I do, however, like to have short and long-term goals, and the beginning of a new year is a great time to reflect on what has been accomplished, and what to do in 2016.
2015 Completed List:
12 Gavinr.com blog posts (met goal of 12, with help from guest blogger Greg Brunner)

Read 21 books (met goal of 15)

Volunteered at least 60 hours (goal of 30)

Released four new WordPress Plugins

Gave three conference presentations - two at Esri Dev Summit and one at Esri User Conference

Built and setup a Raspberry Pi kitchen dashboard (blog post coming soon)

Released some open source projects on GitHub: atlasboard-weather, geojson-viewer, and wab-widget-search
Of course there were goals I had that I didn't reach, including running and blogging.
Goals for 2016:
Learn VIM - Be using at least 10 unique VIM commands in SublimeText Vintage mode daily

12 Gavinr.com blog posts

60 excercise activities (walking, running, or biking)

Contribute to at least 2 open source projects

Release 2 new WordPress Plugins
Written by Gavin Rehkemper on