Published Web App
Last week Missouri got a lot of rain, which caused flooding in the Meramec river valley near St. Louis. I received a link to an ArcGIS Image Service that Surdex had created and provided that showed the flooding as of Tuesday 5/2. They flew this imagery as a service to the government and first responders, hoping to help those affected quicker and more efficiently.
Here's a sample: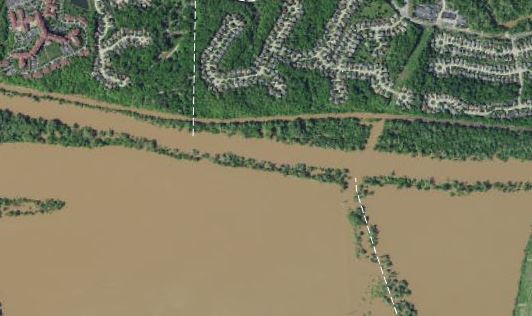 I was really interested in this imagery, but it lacked some context - I couldn't tell how the flooding depicted in the imagery compared to normal conditions. I knew ArcGIS Web AppBuilder had a swipe widget though, so I quickly:
Added the Image Service (provided by Surdex) to a web map, and chose the ArcGIS Imagery basemap and an initial extent
Created a Web App from that web map using Web AppBuilder.
In Web AppBuilder, enabled the swipe tool to be enabled by default.
Shared the web map and app publicly.
This app provided a really compelling, interesting view of the data:
(full app)
The app web viral on Twitter and Facebook - gaining 20,000 views over a three-day period, and even got published on the St. Louis Post Dispatch.

So I'm now an official, published map author now, right? :)
A few links:
Written by Gavin Rehkemper on
Subscribe
I periodically write about technology, maps, open data, and other software topics. To get updates about new posts:
See Also